Networking creators to the World
Fellows Hawaii inc. is a professional agency for creators specializing in: web design videography, publishing, graphic design, games, and anime production in Japan, ASEAN countries, and Hawaii
If you are looking for a creative job, please fill out the form at Registration.
If you are looking for a creator, please send your job information through Contact Us.
Our Services
Personnel recruitment Service

Creative production Outsourcing Service

Skill Up training Service
What is so special about Fellows Agent
Each Fellows agent, known as a "Dual-Side Agent" (DSA), directly serves both creators and the companies to form ideal partnership for both sides.. In other words, a single DSA acts as a coordinator for the creator—holding meetings with and finding jobs for them—while also visiting, consulting and proposing suitable human resource solution to the company.
By having a single DSA listen directly to and understand the requirements of the company, the desired job types and working style of the creator , we are able to prevent miscommunications between the two parties and provide optimal personnel and job proposals in a prompt manner.
Furthermore, DSAs follow up closely with clients even after the contract has been signed in order to ensure expert client management services from start to finish.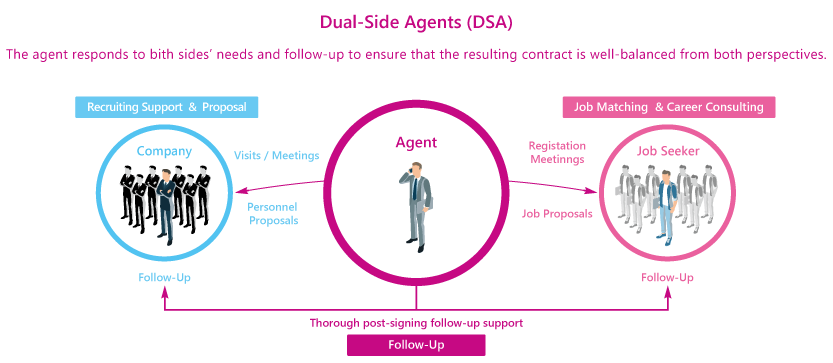 What is the merit of DSA
High-precision client coordination A single DSA meets directly with both parties, enabling precise and detailed information gathering
Quick personnel and job sourcing The DSA can quickly communicate with both parties, enabling speedy arrangements
Thorough post-signing follow-up support Being involved in the entire process provides DSAs deep understanding of both parties' circumstances thus enabling rapid and precise responds to each side's objectives.
Meaningful business proposals for companies Thanks to a full understanding of each creator's talents and expectations, DSAs can provide effective proposals based on companies' potential needs and successfully close contracts